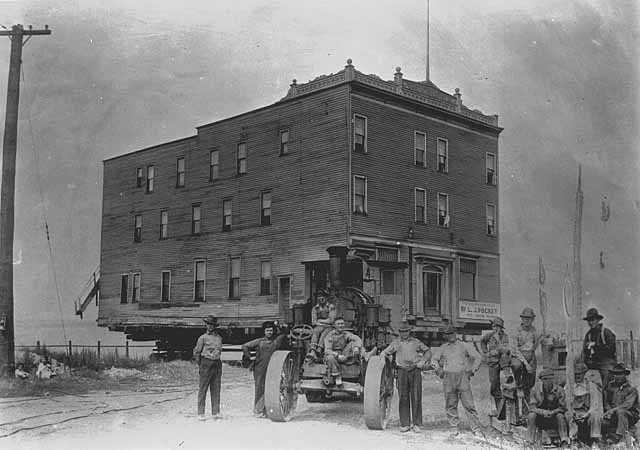 Hibbing was founded in 1893 by the town's namesake, Frank Hibbing. Hibbing was born in Hannover, Germany on December 1, 1856 and was christened Frans Dietrich von Ahlen. His mother died when he was still in infancy and it was her name, Hibbing, which he assumed when he set out to seek his fortune in the New World. He first settled in Beaver Dam, Wisconsin where he worked on a farm and in a shingle mill. After deciding he was not familiar enough with the English language to make a legal career possible, he turned to timber cruising.
In 1887, Mr. Hibbing settled in Duluth where he established a real estate business and began explorations on the Vermilion Range. In 1892, he headed a party of thirty men at Mountain Iron and cut a road through the wilderness to Section 22, 58-20. An expert iron ore prospector, he soon discovered the surface indication which led him to believe in the existence of extensive ore deposits.
In July 1893, the townsite of Hibbing was laid out and named in honor of him. Feeling personally responsible as Hibbing's creator, he took the deepest pride in its development and, by his generous aid, made its progress possible. He used his personal means to provide a water plant, electric light plant, the first roads, hotel, sawmill, and bank building. For the last ten years of his life, Mr. Hibbing made his home in Duluth where many of his business interests were centered. He retained close contact with the community which bore his name, until he died of appendicitis on July 30, 1897 at age forty.
Hibbing Heights was platted in 1908, which was annexed by Alice in 1910, when Alice incorporated as a city. Between 1919 and 1921, the Village of Hibbing relocated immediately south of Alice and then annexed Alice in 1920. Hibbing remained a village until 1979 when the Town of Stuntz was annexed. An Article of Incorporation was filed in July 1979 with the state and Hibbing became a city from that action in January 1980.
Hibbing is home to the world's largest iron ore mine, which was discovered by Leonidas Merritt. Hibbing grew rapidly in its early years as the huge iron ore mines such as the Mahoning, Hull, Rust, Sellers, and Burt provided the raw material for America's industrial revolution. In fact, the mines encroached on the village from the east, north, and west and it was determined that some of the ore body actually went under the town whose population had hit 20,000 by 1915.
Negotiations between the Oliver Mining Company and the village finally brought about a plan whereby the entire village would relocate to a site two miles south near Alice. The company, for its part, agreed to develop the downtown buildings with low interest loans that could be paid off over the years by the retailers. New civic structures such as Hibbing High School,  the Androy Hotel, the Village Hall, and the Rood Hospital were also constructed with mining company money. In all, about 200 structures were moved down the First Avenue Highway, as it was called, to the new city. These included a store and even a couple of large hotels. Only one structure didn't make it: the Sellers Hotel tumbled off some rollers and crashed to the ground leaving, as one witness said, 'an enormous pile of kindling'. The move started in 1919 and the first phase was completed in 1921. Known today as 'North Hibbing', this area remained as a business and residential center through the 1940s when the mining companies bought the remaining structures. The last house was moved in 1968.
The United States ability to win World War I and II were due in part to Minnesota's vast ore reserves.  Steel used in munitions and equipment was largely mined in northern Minnesota. In the 1940's it is said that one fourth of the ore mined in the US came from the Hull Rust pit.
Famous Songwriter/Performer
Home Grown in Hibbing: Bob Dylan
Hibbing was the boyhood home of songwriter/musician Bob Dylan. Born on May 24, 1941, he was named Robert Allen Zimmerman. His parents, Abraham and Beatty (Stone) Zimmerman had one other child, David. They brought their children up in a Jewish household.
Friends and family tell stories of Bob's singing performances beginning at a very early age. Two of his first remembered public performances were at the age of four, when he sang at a Mother's Day Celebration and an aunt's wedding in Duluth.
The Zimmerman family moved to Hibbing in 1948, when Bob was seven years old. He attended public school and began playing the guitar while he was in junior high school. He became increasingly interested in rock 'n roll and formed several local bands during his teenage years. These included The Golden Chords, The Shadow Blasters, Elston Gunn, The Rock Boppers and The Satin Tones. They performed at community talent shows, Moose Lodge meetings, local cafes and the St. Louis County Fair.
For most of Bob's life in Hibbing, he resided at 2425 7th Avenue East. He graduated from Hibbing High School in 1959 (The 1959 yearbook is locked in a cabinet at Hibbing Public Library) and moved to Minneapolis to attend the University of Minnesota. In 1960 Bob dropped out of the University and moved to New York. His first album, Bob Dylan, was released in 1962. That year, he legally changed his name from Robert Allen Zimmerman to Bob Dylan.
Since that time, Dylan has released numerous recordings, received international acclaim for his songwriting and become a legand among musicians.
November 22, 1965, Dylan married Sara Lowndes. Their first son, Jesse Byron Dylan was born in 1966 followed by his sister Anna in 1967. Bob returned to Hibbing for a short time to attend the funeral of his father Abraham who died on June 5, 1968. Dylan's next son, Seth Abraham Isaac, was born that next month. Sara and Bob's youngest son, Samual, joined the family in 1969.
A collection relating to Dylan's life and accomplishments is located at the Hibbing Public Library, 2020 East 5th Avenue / 218-262-1038. The Atrium/Zimmy's is an excellent restaurant/lounge on Howard Street in Hibbing that features Dylan memorabilia.
Other Well-Known Hibbing Area People
Andrew 'Bus Andy' Anderson - Founder of Greyhound | Richard Dean Anderson - Actor on McGyver Series – Buhl | Lud Andolsek - Federal Official, Chisholm | Arthur Ballet - Theater Arts | John Blatnik - Congressman, Chisholm | Pal Brown - Pro Boxer | Vincent Bugliosi - Author/Attorney (Helter Skelter, The Sea Will Tell) | Geno Cappelietti - Pro Football, Keewatin | John Carroll - Business | Tony Charmolli - Choreographer  | Bob Collyard - All American Hockey | Bob Dylan - Musician | Roger Enrico - Pepsi Cola | Gary Gambucci - All American Hockey | Judy Garland - Entertainer, Grand Rapids | Dick Garmaker - Basketball | Mrs. Pierre Godart - Dress Designer, Chisholm | Frank Hibbing - Founder of the City of Hibbing | Dorothy Hurlbert - First Bookmobile | Helen N. Kenyon - Entertainer | Roger Maris - Baseball | Kevin McHale - Basketball, Celtics, Timberwolves | Eddie Miller, All American Hockey | Jack Nelson - Pro Football | Jeno Paulucci - Entrepreneur Businessman | Rudy Perpich - Governor of Minnesota | Peter Popovich - MN Supreme Court Chief Justice |Gary Puckett - Entertainer, Gary Pucket & The Union Gap
Minnesota Discovery Center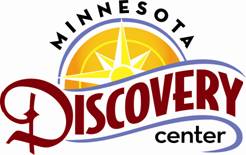 Minnesota Discovery Center is comprised of a museum, research center, and park. It tells the story of the Iron Range - its people and its culture though exhibits, interpretation, programming and research materials. The center highlights the story of the predominantly European immigrants who migrated to this region at the turn of the 20th century to find work in the burgeoning iron ore industry.
For more information on this first rate museum, research center, and park, please contact:
1005 Discovery Drive, Chisholm, MN 55719
Phone: (800) 372-6437 or (218) 254-7959
Fax: (218) 254- 7971
Hibbing Historical Society & Museum